28 Sep 2021
5 Tips to follow-up leads after exhibiting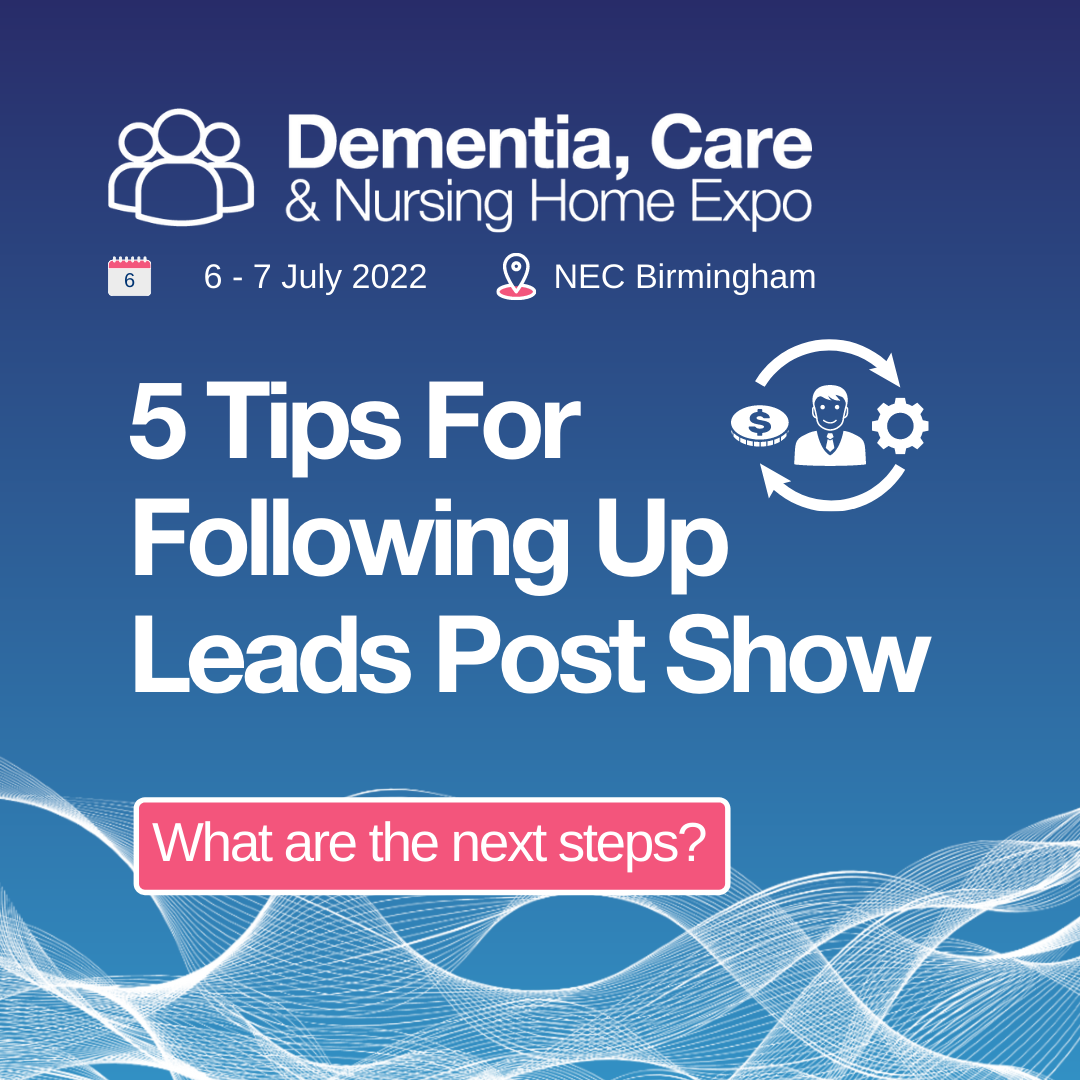 Now Dementia, Care & Nursing Home Expo has past, what are the next steps for sorting, following-up and getting in contact with all your leads? Check out our top tips for following-up, nurturing and converting post event leads.
Invite them to your email list - explain where you got their name from, tailor your message to your event conversation, and remind them of the conversation you had at the exhibition. Show what you have in common and why they should engage with your company. For example, "I hope you enjoyed the event as much as we did, we really enjoyed meeting you at the show and discussing "XX", I believe we could add value and support your growth by..."
Create event-related content - the event is what connects you. Write articles and blogs about it and your experience, your prospective clients will be able to relate and find common ground sparking interest and engagement. Engage an independent reporter to provide a fresh perspective.
Nurture first, sell later - unless it's a firm sales-ready lead, don't go in selling to a prospective client, you don't want to drive them away (only 5% - 15% of initial enquiries are ready to speak to sales). Develop a lead-nurturing campaign to guide prospects through the marketing funnel until they're ready to speak to sales.
Encourage your sales team to make personal connections - ensure your sales department personally follow up with the prospects they spoke to. Email, connect on LinkedIn, follow on Twitter etc. Remember, people respond differently to different types of communication, some people like a call, others prefer an email, and many now communicate through social media platforms - find what works best and use the platform they're most likely to respond to. Whether that's a DM on Instagram, a WhatsApp message or a quick call. People build relationships with people, not companies.
Don't discard non-customers - Keep them engaged - they could become an evangelist of your brand, or possibly a partner. Keep them up to date with what's happening in your organisation. Invite them to subscribe to an online newsletter, attend online events, or connect via social media.
Don't leave your leads 'go stale', make sure you get in touch to follow-up with prospective leads as soon as possible to avoid disinterest and loss of a potential client.