20 Aug 2021
Cura's Response to Staff Rota Challenges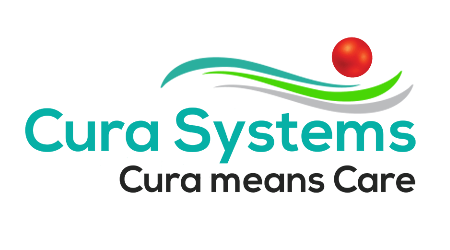 The health and social care industry and its workforce are acutely aware of the ravages wrought by the outbreak the pandemic – this most vulnerable sector has suffered more, faced higher uncertainty and now has to face acute staff shortages. The challenge of how staffing levels can be optimised has never been more critical.
The Government's directive on the movement of staff between care settings is quite clear – see Adult Social Care Winter Plan In the recently released proposal 'Annex to Code of Practice on the Prevention and Control of Infections,' it states that, "Registered care home providers of nursing or residential care must not deploy people to provide nursing care or personal care if those people are also being deployed, or have been deployed within the previous 14 days, to provide a regulated activity in another health or social care setting. There is an exception where this would result in unsafe staffing levels, subject to conditions set out in regulations."
Cura Roster…addresses this challenge!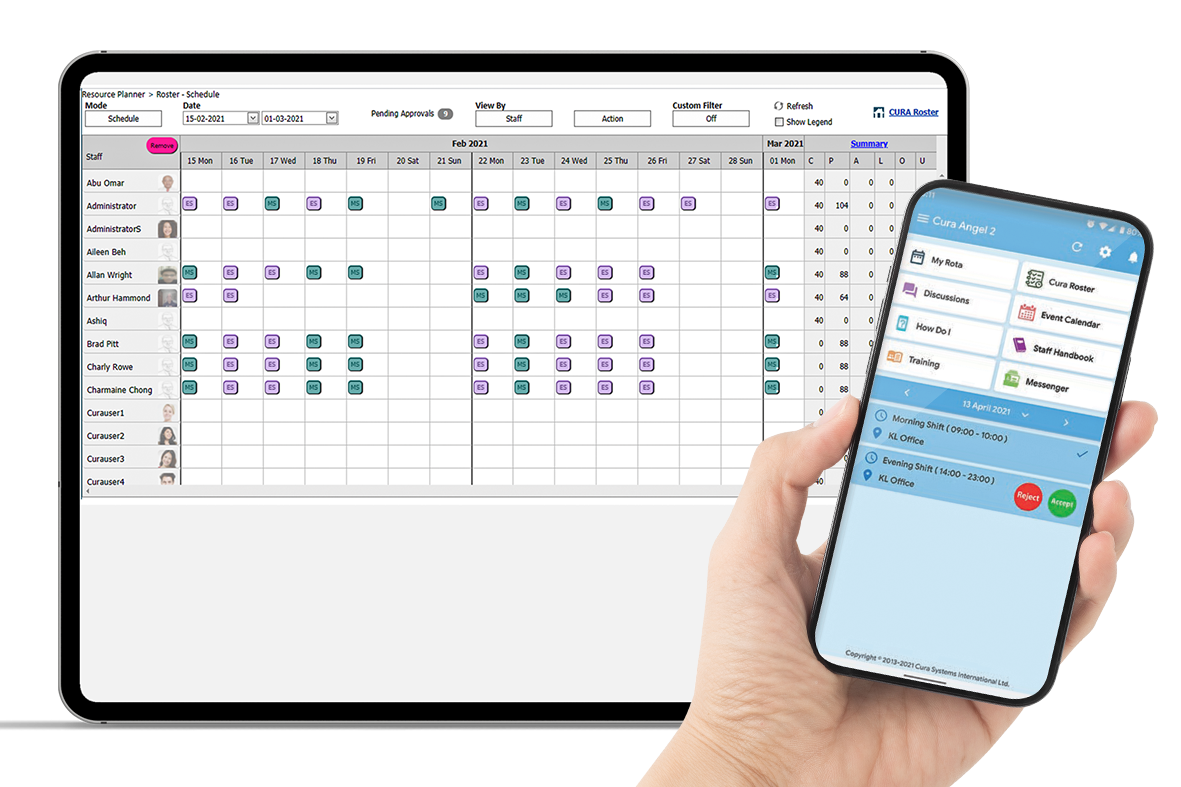 Since the onset of the outbreak, Cura has been responding not only to its customers but also on how to help connect everyone in the care ecosystem and improve the continuity of care through digital transformation.
Our latest addition, Cura Roster is our answer to getting the most from limited resources within the social care sector. With our new rostering system, you can plan staffing requirements in accordance with CQC standards and as an aid to the control of infections by properly assigning caregivers to prevent situations where staff are working in more than one setting.
Cura Roster, enables flawless management of staff; in conjunction with Cura Angel, a mobile based care app that allows care staff to see and confirm their shifts and other updates, etc. The module comprises a user-friendly interface, including "drag and drop" and alternative planning views - features that make scheduling so much easier – ensuring the right people are assigned the right tasks in the right places at the right time for…
staff who work for one provider across several care homes
staff who work on a part-time basis for multiple employers in multiple care homes or other care settings
agency or other temporary staff
Cura Roster has been developed specifically for the care industry. The roster has been designed with both the small care home and larger multi-branch organisation in mind. Carehome owners and managers can also use more advanced functions to assist in planning staffing requirements and can build a roster that will help plan a schedule with the correct number of staff, required roles and skills needed for a home to work efficiently and safely in single or multiple sites.
Here are some of the new features:
Better visibility of caregiver workload using colour-coded shifts.
Drag and drop user interface with extensive data validation to allocate suitable staff to shifts and evidence staffing compliance
Scheduling in a more flexible and configurable format - move or alter shifts easily all at a branch level
View who are on leave or with pending leave applications
Staff requirement based on Role or Locations – Configure and filter the roster to your own requirements, allowing larger organisations to build their section of the roster, either in regards staff roles or locations.
Publish "vacant shifts" for staff to apply
Connectivity to a free Cura Angel App for staff to enable leave requests, swaps and approve shift changes
Confirm hours worked through Cura Angel app
Connectivity to Clock In with functionality to show location sensitive attendance
Generate data for upload to payroll
…and a lot more!
Abu Omar, founder of Cura believes better workforce management systems can provide numerous benefits, including increase staff retention, identify skill gaps, savings in time and cost, boost productivity and ultimately improve outcomes.
"An ideal roster management system maximises your resources and produces better scheduling in a more flexible format to avoid overstaffing due to scheduling conflicts, minimise risk of understaffing and fill empty shifts. Whether you want to create a roster that you print, email out or utilise more advanced features, CURA Roster has the flexibility to meet all customer's rostering needs. Cura does that and more!
Cura is growing with new features being introduced every month and we will continue to evolve in response to our customers' needs. We welcome suggestions to make changes that will greatly benefit this sector of care," he says.
Cura's care scheduling system is designed to boost the visibility of caregiver workloads and provides better coordination and control of various activities within the home. It also significantly decreases the time, cost and effort put into paperwork, increases productivity and free up precious time for more important tasks.
Whilst there are number of systems currently serving the market, Cura is the most intuitive care home software with the widest scope of functionality within a connected suite of modules.
Cura means care...and we care as much for you and your team as you do for your service users. Cura is ready to support you to make a positive change to care delivery.
If you would like a quick, no-obligations look at Cura, please contact us on 020 3621 9111 or email at info@cura.systems for an on-line demo. Please quote "Dementia Care Expo" when booking your Cura presentation.