26 May 2021
Discover how seniors at Diamond House Care Home in Saskatchewan, Canada are benefiting from Obie For Seniors by EyeClick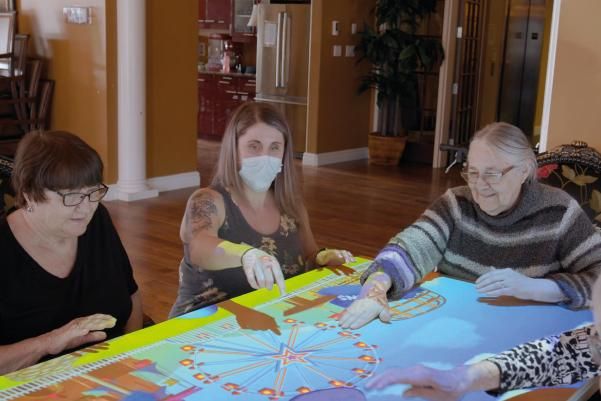 Diamond House Care Home in Saskatchewan, Canada Adopts Cutting-Edge Interactive Tech inside Their Care House How Diamond House Care Home is enhancing the lives of their residents with Obie For Seniors innovative virtual tech
"You really see the residents light up and interact and when you see that resident actually being their true self - it's something really nice to see" Kassandra Winter, Activity Staff
Many senior care centres across the world have been hit hard as a result of the pandemic and Diamond House Care Home in Warman, Saskatchewan is no exception. Diamond House has always been unwaveringly committed to adapting their environment to meet the unique and changing needs of each of their residents. When the pandemic arrived, they quickly realized that many residents were starting to exhibit loneliness as a result of the COVID-19 restrictions that Diamond House was forced to implement.
As a result, Diamond House's CEO Heather Hauphstein knew she needed to find a solution. Hauphstein was looking to bring something into the home to provide residents with some much needed excitement and something that would enhance their quality of life. Obie For Seniors turned out to be an incredible solution to help combat some of the loneliness that residents were experiencing pretty much overnight.
As soon as Obie For Seniors was installed inside Diamond House, Kevin Ooms, Home Administrator noticed a positive change in his residents right away. Residents who did not typically come out of their room for activities were all of a sudden now leaving their rooms and wanted to engage with Obie. Ooms also witnessed residents who were previously very quiet, reserved and not very expressive, start to interact with Obie along with other fellow residents and come out of their shell. These quiet residents became very engaged and laughed a lot more when playing Obie's games. Ooms has also noticed that residents will continue to talk about their experiences with Obie even after they are done playing, especially at the supper or breakfast table. In addition to the shared experiences playing the Obie games, the device has also proved to be a popular topic of conversation between residents, providing more laughter and happy memorable moments
Obie has also been beneficial in providing residents with not only cognitive stimulation, but also physical. Most residents are not even aware of the exercise that they are getting by engaging with the games.
Obie has been instrumental in giving residents something to look forward to, and more reasons to laugh and visit with others. The device helps to bring out the residents true self and the staff have really enjoyed seeing the residents finally enjoying themselves. The staff also really love playing all the games as well! Diamond House cannot wait until their Pre-School comes back into the home and they are able to have little children play on Obie alongside the senior residents.
Overall the device has brought a lot more laughter and smiles into the home which has been priceless.
"Every care home needs to have a system like this because the enhancement in the quality of life it presents for the residents. Every resident deserves that." Kelvin Ooms, Home Administrator
Obie is currently installed in over 80 countries with about 10,000 installations with 10 million to 15 million active users on a monthly basis.
Latest and Greatest News
★ 🥇Obie won first place in Mediterranean Towers Ventures's AgeTech Startup Of The Year
★ 🥇Obie declared winner of LeadingAgeCA's 2021 People's Choice Award
★ Obie's Product Manager, Dr. Michal Herz recognized as Alzheimer's Disease International Training Accreditation Reviewer
★ System is equipped with an advanced data analytics system to provide care staff with value insight about how residents are engaging with the device
★ New Product Alert- Brand new state-of-the-art mobile Obie unit!
★ Based on a recent study, Obie has been highly successful in improving the cognitive health of the senior community with 94% of senior care staff reporting that residents experience a positive increase in well-being after engaging with the device.
"Obie's hundreds of games are great for seniors. They are cognitively stimulating, socially engaging, and physically invigorating – a winning combination for all ages!" Professor Elkhonon Goldberg, MD, Neuropsychologist and Cognitive Neuroscientist, NYU School of Medicine
Want to try out Obie? Make sure and visit our booth at the upcoming in person Dementia, Care & Nursing Home Expo in September 2021 in Birmingham, UK!
For more information about Obie For Seniors, please contact:
Trevor Mills Exergame / EyeClick trevor.mills@eyeclick.com (m) +44 (0) 7944 333831 (o) +44 (0)20 3488 4757
If you'd like to find out more, please visit https://obieforseniors.com. Thank you!