24 Feb 2021
Government Vaccination Programme: What's next?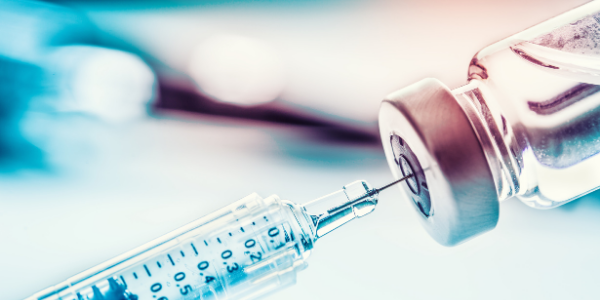 As of last week, fifteen million have received their first dose of the COVID vaccine which Prime Minister Boris Johnson has hailed as an "extraordinary feat". As we move into March, what are the next steps in the vaccination programme?
At the start of 2021, the UK government announced a plan to vaccinate the over-70s, care home residents and health and care workers by mid-February. A total of 15 million people have now received their first jab, with their second jab to be administered within 12 weeks of the first, but as Prime Minister Boris Johnson said "We've still got a long way to go to. And there will undoubtedly be bumps in the road. But after all we've achieved, I know we can go forward with great confidence." So why can we move forward with great confidence?
It has widely been reported that as soon as the 'top four priority groups' had received their first jab, this would significantly reduce hospitalisations by 99%. As of last week, Health Secretary Matt Hancock reported we still have 23,000 patients in hospitals due to COVID, much higher than the peak in the first wave of April, but with infection rates coming down, we could start seeing hospital pressures being eased which would be of great significance in the fight against COVID.
It was also reported last week that the over-80s age group are now the most likely to test positive for coronavirus antibodies, a signal to say the vaccination programme is starting to pay off. Previously, younger age groups were more likely to test positive for antibodies and only three weeks ago 26% of over-80s tested positive for antibodies. As of last week, that figure is now 41%, which the ONS said was "most likely due to the high vaccination rate in this group".
Whilst this is significant, deaths are still 40% above the five-year average but they are slowly decreasing. At the start of February, the daily death toll was in the thousands but that is now down to around 650. This is largely due to the national lockdown's effect rather than the vaccination programme as Robert Cuffe, Head of Statistics at The BBC, has reported: "Back then, far fewer people had been vaccinated and, since it takes few weeks for the jab to yield antibodies, even fewer had been vaccinated early enough to get protection from Covid-19."
There is also still cause for concern as a third of social care staff have still not been vaccinated according to Health Secretary, Matt Hancock. He urged those who have not yet received a jab to come forward and do so, as care workers were included in the government's first target of vaccinating 15 million people, and with care workers potentially being exposed to the virus more than the average, it's imperative the government work fast to get the rest of the workforce vaccinated.
Another interesting trial was given the green light last week in the UK with the world's first "human challenge" study. Up to 90 people aged between 18-30 will be exposed to the virus in a safe and controlled environment while medics monitor their health. The idea is for scientists to understand more about how the virus affects people and asses the treatment of vaccines. As Clive Dix, interim chair of the Vaccines Taskforce said: "We expect these studies to offer unique insights into how the virus works and help us understand which promising vaccines offer the best chance of preventing the infection."
It seems the path is becoming clearer in what we hope is back to some sort of normality. Many figures remain high however, with hospitalisations higher than the peak in April and infection rates still in their thousands every day. It could be some weeks yet before we start to see the full effect of the vaccination programme, but there are glimmers of hope that can now leaving us more optimistic than before.