26 Apr 2021
Guest blog: Training and support with Britton Price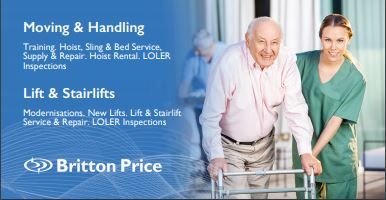 Britton Price have a broad selection of services offered to the care and nursing home sector and for 25 years have been providing equipment supply, service, and maintenance to many of the UK's largest care providers and this includes passenger lifts, goods lifts and platform lifts too.
So, whether you need help with patient handling equipment including beds, baths, hoists, slings or help with maintenance, installation or modernization of passenger lifts, Britton Price can help.
More recently Britton Price entered the training market providing several national qualifications in Safe People Handling & Risk Assessing, Load Handling and Emergency Evacuation training. Accredited by RoSPA Qualifications and regulated by OFQUAL. This ensures the very highest standards of training which can be delivered anywhere in the UK. In addition to the face-to-face training, all delegates receive access to the state-of-the-art training portal which has all the resources required for trainers to deliver professional internal training courses.
As a result of the incredibly high standards set, Britton Price are delighted to announce that they are now the official training partner of Joerns Healthcare / Oxford Hoists. This new partnership is testament to the hard work put in to developing the most appropriate and robust people handling training and will further build on an already very successful training division.
Mark Cable, Managing Director of Britton Price hoists said "In the 4 years we have been offering these courses we have now qualified more than 2,000 care staff. This gives me great satisfaction in knowing we have played a huge part in the development of key staff who will then go on to deliver high quality internal training, ensuring the safety of both residents and the staff who are delivering the care. I am proud to have met such incredible people who share a passion for getting things right and who are keen to develop their skills in this field".
The partnership with Joerns Healthcare is not the only partnership Britton Price have. TPG Disable Aids based in Hereford have been working with Britton Price for several months and providing the same high-level qualifications from their Centre of Excellence facility. Both TPG and Joerns have ensured all their customer facing sales teams have already completed the Britton Price Level 3 Train the Trainer qualification, and all have completed this successfully.
Of course, training has been one of the areas hit hardest by the pandemic and whilst the legislation requiring robust training has not changed, the ability to deliver was obviously hindered. Britton Price responded with virtual training offerings and this has been extremely well received by many large care groups and has always kept those businesses compliant. Britton Price are now back to delivering face to face training albeit in a slightly modified manner and look forward to meeting many new delegates throughout the remainder of 2021.
Post training support is crucial to providing a truly unique service to customers and this is something Britton Price take very seriously. All delegates are fully supported after they have qualified and where they may need help or guidance with complex case scenarios, assessments or just need some extra support when delivering training. This support is provided to anyone who undertakes the Level 3 Train the Trainer Qualification.
The online portal is a clear winner with the delegates as it hosts a huge amount of reference materials and training aids including numerous How-To video's, Safe Systems of Work, Workbooks required for internal training, presentations for internal training and a massive library of other legislation guidance and support documents. This system is available 24/7 365 so the delegates always have access to information they need when they need it. For larger groups this portal can be fully customized to include policy information or other internal documents. Managers of large care groups are issued with additional rights which allows them to produce usage reports for their organization.
For any enquiries for training or any other services offered by Britton Price please contact mlong@brittonprice.co.uk or mcable@brittonprice.co.uk