15 Jun 2022
Namaste from Autonomy Care Group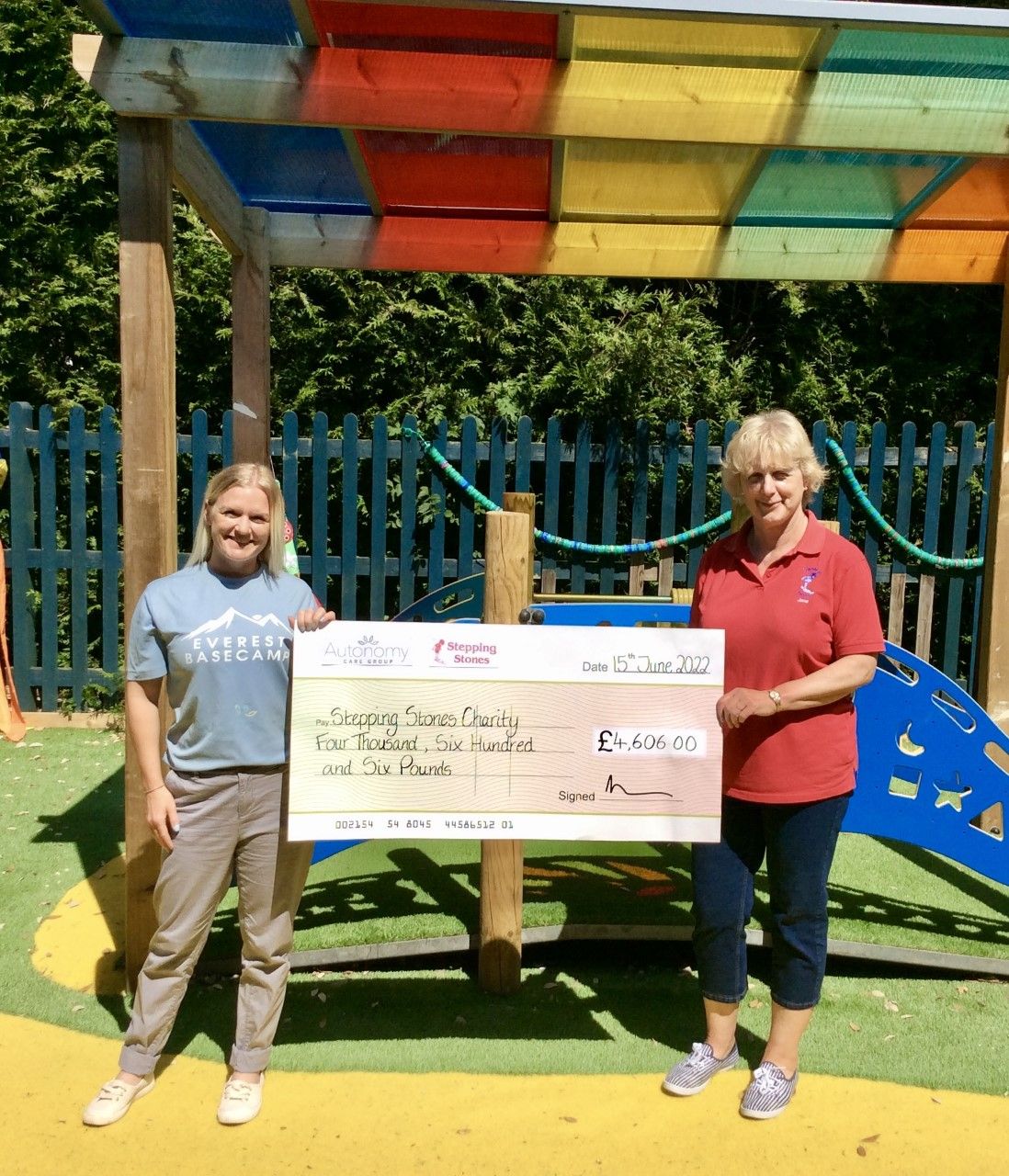 Namaste from Autonomy Care Group, as their Marketing Coordinator Jen returns from Everest! Jen jetted off to Everest in Nepal back in April to help raise essential funds for Stepping Stones District Specialist Centre's new garden in Trowbridge, Wiltshire. The charity supports pre-school children aged 0 to 5 years who have special needs.
"It's hard for me to articulate where I've been. It all started with a leap of faith to board the notoriously dangerous mountain plane to Lukla, Nepal. From there the trek commenced and I was in awe of the blue pine forests, blinded by countless dust paths, tackled snow blizzards – alongside conquering my fear of heights on suspension bridges. With all the challenges of the trek, comes the highest reward!"
Jen proudly waved Autonomy Care Group's flag at Everest Base Camp on 1st May!
"There's a reason the words 'Base Camp' mean so much, and if it was easy everyone would do it. It's true that the people make an experience, rather than what you set out to see in the first place. I was blessed with my team of 11 others and of course the tour guides; all strangers to begin with and now friends for life. We pushed each another when needed and we all made sure everyone made it to Base Camp safely. I feel truly humbled to have gone over our original target of £3K for Stepping Stones charity."
Autonomy Care Group and Jen chose to contribute the 'Get Set Go Blocks' which have been customised by a company for their garden space, for children of all ages and abilities to enjoy. The blocks are safe but versatile for climbing and adventures, but also have balancing blocks for added safe fun - and we are thrilled to have raised £4,606 to contribute towards this feature in their new garden!
Debbie Wickham, the Manager at Stepping Stones said, "Stepping Stones really appreciates the enthusiasm and commitment of Jen in seeking to raise funds for the children of West Wiltshire. Her adventurous spirit has resulted in helping us to achieve a fabulous new outdoor play space for our children. Jen not only completed the challenge of the trek to Everest Base Camp but was also instrumental in helping us promote our project, by creating the video which was used extensively in our fundraising campaign. Many thanks Jen from all the staff and children of Stepping Stones."
Jen from Autonomy Care Group added, "A huge thank you to everyone who attended our fundraising events throughout 2021 and early 2022 and donated online to the cause. We are all so blown away with the support from the community and we look forward to a new challenge in the near future to raise further funds for charity! Where to next?!"