05 Oct 2020
Q&A with Alison Murray, Head of Inspection and IPC Lead at the CQC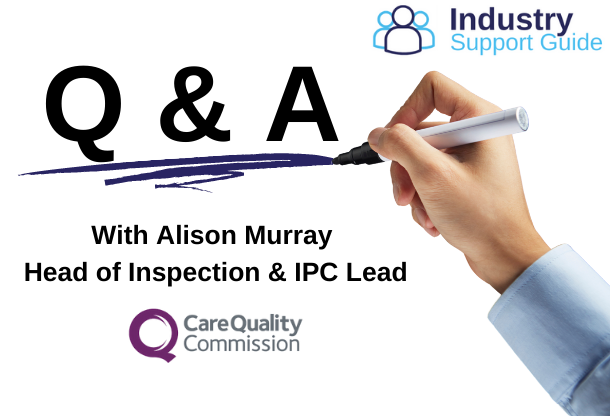 A couple of weeks ago the Dementia, Care & Nursing Home Expo hosted the second webisode in the Industry Support Guide series. Alison Murray joined us for a brilliantly engaging, topical and vital session on infection prevention and control in care homes - only days after the release of the adult social care winter plan.
Thank you to all who joined us, here are the answers to the questions we didn't get round to answering:
Question: We are having problems with getting results in a timely manner , sometimes it is taking up to 2 weeks . We are also find that a cohort of results just go missing , what else can we do if we have escalated it.
Alison: I'm afraid that CQC aren't responsible for the testing process. I understand that colleagues in DHSC are working hard to improve the process and that additional lab facilities are being brought on stream. You should raise any concerns through the 119 helpline.
Question: Some of us work with residents whose level of LD and Autism means they might rip off masks or scratch through gloves. In some cases this can see them break through several sets of gloves. Staff carry PPE with them so they can replace but it may be removed for a short period. Are there any thoughts on this?
Alison: Wherever possible, we expect providers to adhere to current guidance around the use of PPE.
We recognise this is a difficult area for providers supplying care to those who may respond anxiously to the use of masks and other PPE.
You may wish to consider creative ways to give reassurance to people living in the service, such as increased use of social distancing measures when actual personal care is not being delivered. Any decisions around the use of PPE should be fully risk assessed and decisions made recorded. In our approach, CQC will take a balanced and proportionate response when monitoring and inspecting services.
The Social Care Institute for Excellence produce guidance on provision of care for people with learning difficulties and autism can be viewed at https://www.scie.org.uk/care-providers/coronavirus-covid-19/learning-disabilities-autism/care-staff
The Challenging Behaviour Foundation's guidance may also offer some adaptable approaches for the provider to consider - https://www.challengingbehaviour.org.uk/information/covid19information.html
Question: In relation to resident engagement and tackling physical and mental wellbeing within care homes how do we stand currently with the use of technology and activity equipment individually and in groups?
Alison: During the pandemic we have seen and heard about lots of services which are using technology in innovative ways to tackle physical and mental wellbeing. We would expect that any such approaches are risk assessed and meet the needs of people using the service. We have captured some of these on our website:
https://www.cqc.org.uk/publications/innovation-inspiration-examples-how-providers-are-responding-coronavirus-covid-19
Question: You highlighted that IPC policies were not up to date or not reviewed however covid-19 has created the need for a continual review for IPC so we have implemented a separate file for Covid with guidance and additional IPC policies that are reviewed in line with RA's and our IPC has been audited and marked with an unknown timeframe for rigorous reviewing with lessons learnt applied after discovery is completed with Covid-19, how would you view this or do you have any further recommendations?
Alison: That sounds like good practice. It is important that care services carry out regular audits of their IPC practice, including observations of staff adherence to PPE policies. They should record their findings and any changes made as a result.
Question: There are a larger number of concerns being raised directly to CQC due to families not seeing Residents as often... How is this being viewed by CQC?... as it is only reasonable that Families are anxious during this pandemic.
Alison: We recognise this is a very difficult area. This is highlighted in the ASC Covid-19 Winter Plan (below):
We recognise how important it is to allow care home residents to safely meet their loved ones, especially for those at the end of their lives. We appreciate the particular challenges visiting restrictions pose for people with dementia, people with learning disabilities and autistic adults, amongst others, as well as for their loved ones.
Our first priority remains to prevent infections in care homes and protect staff and residents. We set out below tightened infection prevention and control measures to enable visits to continue safely. These measures build on the published framework that allows local decision making, based on the assessment of the Director of Public Health and the care provider. Whilst most areas with high prevalence are implementing restrictions, for avoidance of doubt, any area listed by Public Health England's surveillance report as an 'area of intervention' should immediately move to stop visiting, except in exceptional circumstances. The guidance will shortly be updated to reflect these changes.
The CQC will include adherence to infection prevention and control for visitors as part of their Infection Prevention Control inspections and it is vital that providers are meeting required standards.
With care homes taking a risk-assessment based approach, the framework has meant that many more people have been able to see their loved ones. We appreciate the extra strain that constraints on visiting may have put on staff, residents and their families and we continue to encourage providers to find innovative ways of allowing safe contact between residents and their family members
Question: The media are strong to promote and praise the NHS but non NHS seem to just continue to be forgotten, what can CQC do in a public way to make us less of second class citizen in the public eye and share the public support that the NHS are recognised with
Alison: Over the course of the pandemic there has been a significant increase in reporting of issues which affect the ASC sector. Whilst we can't always influence what is published, we do work hard behind the scenes, speaking with journalists to help them to understand the challenges faced by the sector. In our Covid Insight reports, we specifically highlight these issues and pro-actively share their content with media outlets.