02 May 2020
Speak to the law firm that are truly specialists in the things that matter to providers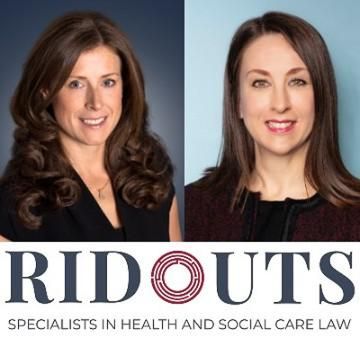 Ridouts is a law firm that acts only for care providers, exclusively in matters related to health and social care law. This means that when you contact us for advice you can be assured that you will be getting specialist representation from a highly experienced team of lawyers with real up-to-date insight into the issues facing the sector.
We provide legal, operational and strategic advice to providers when they are faced with matters that can negatively impact their businesses, such as poor CQC inspections, enforcement action, safeguarding and embargoes.
We are at the forefront of developments in all matters relating to CQC regulation, including responding to reports, challenging ratings, responding to enforcement action and representation in Tribunal proceedings and we get results.
Between 2016 and November 2019, 51 appeals (published) against CQC decisions were heard before the First-Tier Tribunal. Only 6 of these appeals were successful. One of those was decided on the papers, another was a litigant in person and CQC withdrew its opposition to the appeal on the second day of the hearing. For the remaining 4 wins, Ridouts Professional Services Plc were the instructed solicitors.
Furthermore, what you do not see from the published First- Tier Tribunal decisions are the many cases that we are able to settle for our Clients without the need for a full hearing. These by far out-number the cases that actually reach a Tribunal hearing.
Facing CQC enforcement action can be a daunting and worrying time. If you're experiencing action by CQC, the team at Ridouts would be happy to chat through how we can help navigate you through this challenging time.
At Ridouts, we know the health and social care sector and the details that can make the difference to your business. We'd love to talk to you and learn more about you so come and say hello and we would be happy to discuss any concerns you have.
Laura Paton, Associate, will be providing top-tips on how to improve your CQC rating when she speaks at the event and will be joined by Caroline Barker, Director on Stand D1050. Running a health and social care business can be tough, but working together we can help lighten the load.