23 Mar 2022
The CQC Returns as Show Educational Partner for UK Care Week This Summer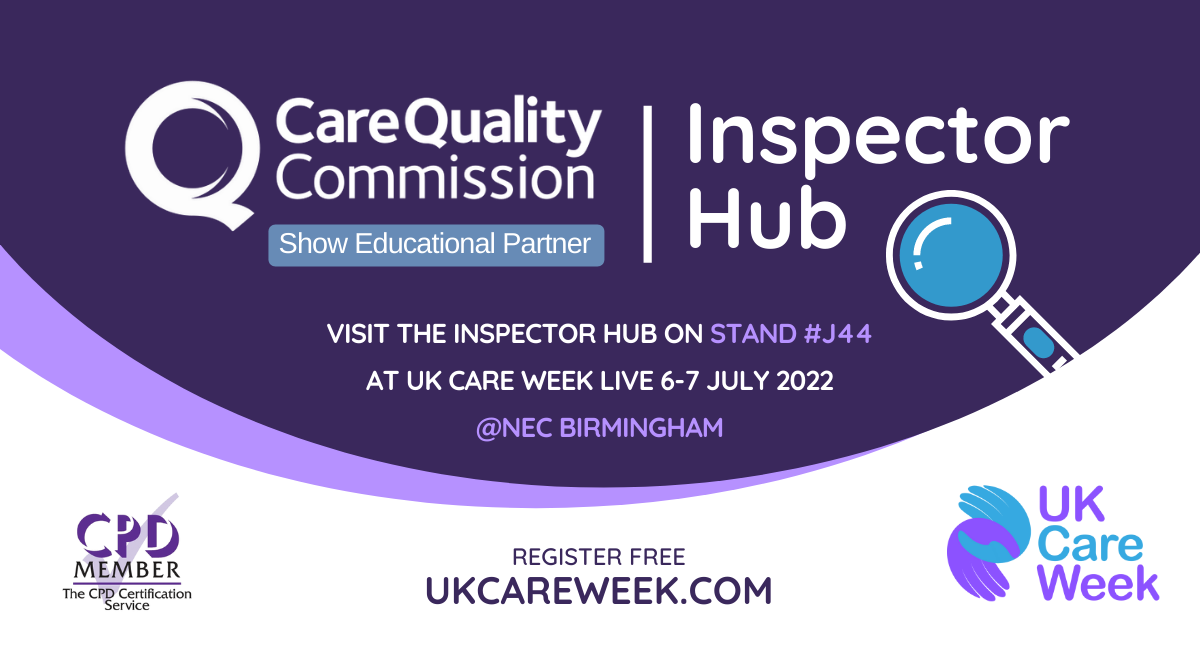 CQC is delighted to be the educational partner of UK Care Week. We will be exhibiting at the show and will be hosting an 'inspector hub' on stand J44. This will give attendees the opportunity to speak to a CQC inspector to discuss any questions they may have. Local inspectors will be able to answer any queries, as well as dealing with registration advice. We are asking delegates to register their interest in speaking to an inspector in advance via the UK Care Week website.
We will be showcasing a new way of accessing our publications and reports through a digital platform on our stand – the Itab. Attendees will be able to browse through a catalogue of publications and reports and select some to be sent to them via email.
For those who prefer, there will also be hard copies reports and publications available as well as up to date information on CQC adult social care policy and key messages.
CQC feels passionately about celebrating great care. We are pleased to report that we've been able to complete 2674 inspections in adult social care services from 1 December 2021 to the end of February 2022. Of those inspections, 1933 have also had an infection, prevention and control (IPC) review. These reviews show that the majority of services have good IPC assurance across our 8 questions and prompts, though we do also see some improvements are needed in keeping up to date policies.
From March onwards, our inspection emphasis will be on risk and re-rating. We will need to continue to assess IPC and ask questions to understand any impact workforce challenges may be having on continuity and quality of care, but our main focus will be re-rating services wherever we can. This work will support us to recognise improvements providers have made, share best practice in inspection reports, and make sure that our published ratings reflect the quality you provide.
More changes will also come with our expected new role in assuring Local Authorities and Integrated Care Systems. As we continue to develop our thinking in these areas, we'll be looking at how local authorities support people working in care settings, and unpaid carers.
We'd like to hear about your experiences working in social care through the pandemic which could include information about how you've interacted with your local authority and system partners. Visit the Because we all Care page on our website to access our give feedback on care form and our toolkit to promote giving feedback to CQC in your services.
For more information about this and to get an update on our policy and strategy, register your ticket and visit us at stand J44. We look forward to seeing you there.