15 Sep 2021
The UK's Leading Care Exhibitions Return!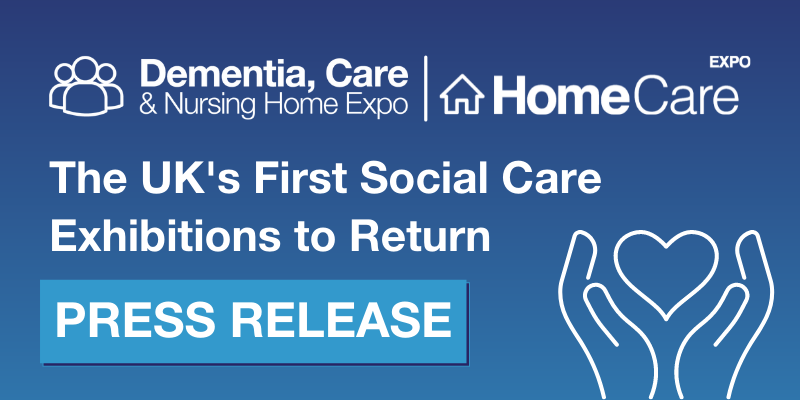 NEC Birmingham — 15.09.21 —The UK's first social care exhibitions to return are in full swing, inspiring business growth, leading sustainable care models and encouraging a new era of domiciliary care. We're excited to see so much of the care industry reuniting and reconnecting in person, and in a safe, and controlled environment. The care exhibitions are crucial for inspiring new business innovation, showcase product demonstrations, and lead development in the public and private care sectors.
Join the care community at the NEC Birmingham (hall 4) to experience two full days of expert speakers, live interactive features, product demonstrations, and an incredible line up of over 270 exhibitors to explore. With Dementia, Care & Nursing Home dedicated to dementia care and nursing, and Home Care Expo focused on domiciliary care, there couldn't be a better platform for the care industry to come together, network and unite.
The care exhibitions offer an abundance of networking zones and food and drink areas allowing you to meet, greet and form meaningful business connections. The 100 CPD accredited seminars covering key discussions from experts throughout the industry in specific halls, allows guests to easily discover the topics they most want to hear about.
Learn about CQC registration and ask questions at the CQC Inspector Hub, partake in an activity at the NAPA activity area to gain first-hand benefits of activities in care homes, or experience the closest scientifically proven way of what it's like living with dementia at Training2Care's Virtual Dementia Tour bus.
Your free ticket not only gives you the benefit of all this and more, but also grants you access to Naidex in hall 5.
###
Dementia, Care & Nursing Home Expo, and the Home Care Expo, are the UK's first social care exhibitions to return to NEC Birmingham, 15 & 16 September 2021. An event dedicated to inspiring business growth and a sustainable social care model. The Home Care Expo is dedicated to inspiring a new era of domiciliary care and connecting care. Both exhibitions are free to attend.