05 Mar 2020
Would you like your home to move from paper to digital care planning, but don't know where to start?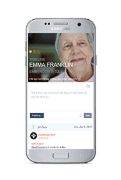 KareInn, a leading provider of digital care planning software, is offering Masterclasses in the Care Tech area of the show packed with practical advice and tips for Care Home managers and owners. KareInn's Rachel Stojevic and Geraldine Chapman share stories and best practices behind the successful implementation of digital care planning in over 100 homes across the UK.
There has never been a better time to become more informed about how digital care planning can help your home be more effective. The process of going-digital is fast becoming part of the care mainstream and moving away from paper is an ever-increasing trend.
Through attending a KareInn Masterclass, Care Home managers and owners will gain insights into:
How 'digitally ready' your home is, and what steps, if any, you need to take to move to digital care planning
How smart approaches to training and support can transform staff into confident users of technology
How digital care planning can drive better outcomes every time, and how to confidently prepare and evidence this at inspection
Join KareInn's Masterclass in the Care Tech area to become better equipped to implement digital care planning, and to receive personalised support from a team of experts. Their team is also available on stand C1282 and look forward to answering any questions.
Early registration to the KareInn Masterclasses are advised and can be booked here.