21 Apr 2021
Write Up: Re-establishing Public Trust in the Care Community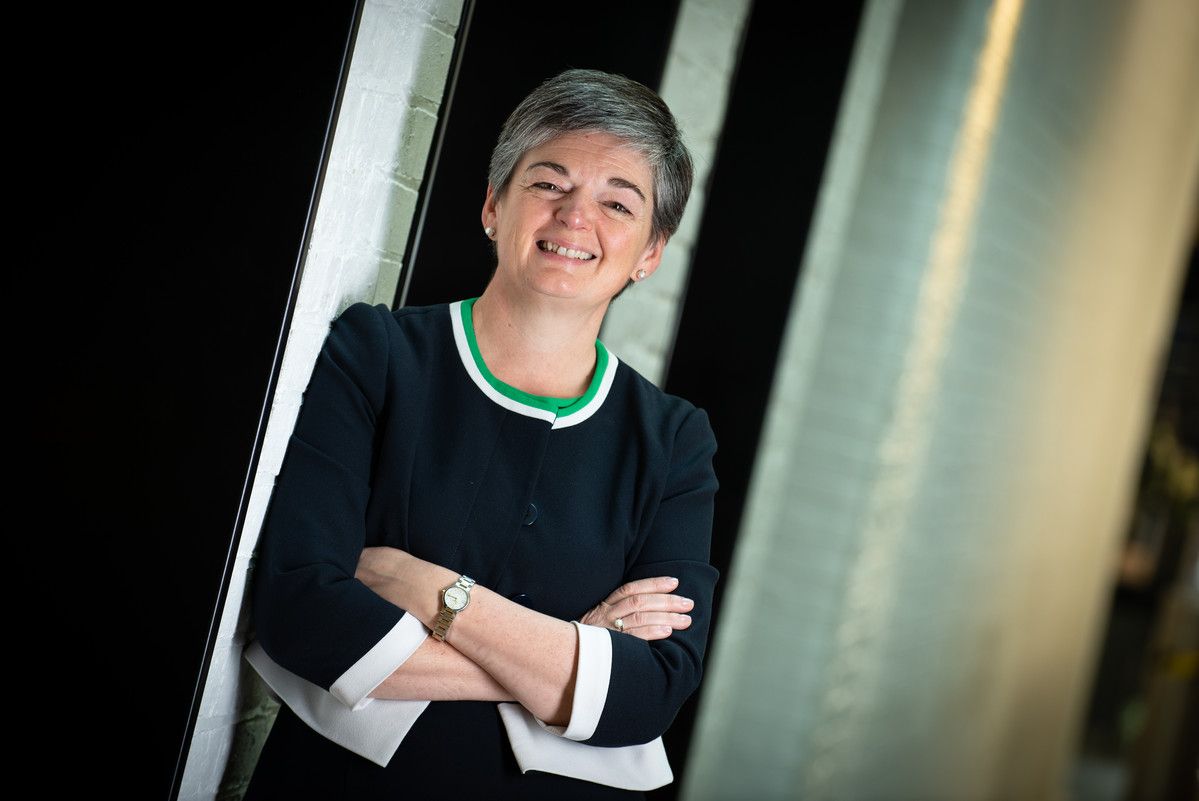 On the 9th of March, we were privileged to host Jane Ashcroft, the CEO of Anchor Hanover, as she held a session entitled "Re-establishing Public Trust in the Care Community" which addressed some of the misconceptions about the care community which have manifested over the last year or so.
Jane is a Fellow of the Chartered Governance Institute and a Member of the Chartered Institute of Personnel and Development. She was awarded a CBE for services to older people in the 2013 New Years Honours. She has been CEO of Anchor Hanover since 2018.
Anchor Hanover provide housing and care for older people across England. As a housing association, they have no shareholders and any profits are re-invested into the business. Originally two separate companies (Anchor and Hanover), they merged in 2018 so that they could meet the needs of more older people as a larger organisation. With over 1,700 sites and 54,000 homes for older people, they have approximately 60,000 living in their care, with ages ranging from the late 50s all the way through to centenarians. At this point in time, they operate within 85% of local authorities in England.
Changing Perceptions During the Pandemic
Following the outbreak of COVID-19 throughout the UK last year, the public perception of care has changed in a positive way:
84% believe social care is equally as important to the NHS.

62% now have a higher opinion of social care providers.

54% believe that social care reform should be a government priority.
For Jane, that final statistic feels very validating because experts within the care sector have been calling for care reform from the government for some time and it is good to see that public opinion is now reaching the same point. She explained that the current system was created in the post-war years and is in need of fundamental review. As much as the past twelve months have been difficult for everybody involved, the changing public perception of the care sector is a small but definite positive.
Misconceptions about care
A big problem facing the care sector now is one large misconception. At the moment, only 28% of people are aware that care services remain open to new residents, with many believing that care services have been closed. The fact that this coincides with a growth in the number of people who would consider social care for themselves or for a loved one highlights the need for people in the care sector to adequately communicate that their doors are not closed and to reassure everyone involved that residents, family members and colleagues are kept safe during the pandemic.
Anchor Hanover Values
Jane explained that Anchor Hanover has a set of values at their core. She firmly believes that if they stick to these values, they'll improve public perception. These are their four values:
Accountable: this means being positive about the things they do and feeling responsible for doing a brilliant job. It means celebrating success and doing what they say they're going to do.

Respectful: it's essential to show respect and kindness to everyone, especially the residents. Inclusivity is a big part of respect and it's important that everyone is valued for what they bring to the organisation. Every resident and every colleague is an individual and it is important that they be respected as individuals. Everyone is always encouraged to share their viewpoints.

Courageous: they must seek to shape a better future, to constantly move forward, to improve and to innovate. This value in particular has been put to the test in the last twelve months, which has highlighted the flexibility of the care sector. A courageous attitude will be essential for the future.

Honest: all employees should have integrity in everything that they do. They need to be open and transparent, especially when it comes to making difficult decisions. Throughout the pandemic, the organisation has been completely open with their interpretation of government guidance, keeping it simple to ensure they can be trusted and understood.
Within the context of those values, they think the best way to challenge misconceptions about the care sector, put simply, is to do a brilliant job.
#BeKindToOneAnother initiative
An idea that was developed during the pandemic in accordance with their values was the #BeKindToOneAnother initiative. At its heart, it was about enabling communities to reach out to care homes during the first lockdown. It was important that people were able to engage with residents during this difficult time, especially as many of the residents were feeling isolated.
Ultimately, it was a huge success and even government figures ended up getting involved. A big part of the project involved engaging with schools and other members of the local community. It helped to remind people of the value of social care. As a result of this initiative, residents had a chance to get involved with social media, enabling them to reach and engage with others and it also saw a large influx of post deliveries for residents, boosting their spirits.
Jane is especially proud of one of their homes who did a weekly TikTok which gave insights into residents' lives and helped to spread positivity.
Celebrating VE Day
The 8th of May 2020 was the 75th anniversary of VE Day. Understandably, this was a day of great significance to a lot of people and even more so for people who lived through the original. At Anchor Hanover, they were keen to ensure that the residents had a chance to enjoy and commemorate VE Day.
One of the ways they celebrated involved a man named Eric Bradshaw, one of their residents and a former signal man in the navy. Staff arranged for local cadets from the navy and the RAF to come and give Eric a salute through the window of the care home. It was a great experience for everybody involved and even garnered some good media attention, with a story about it featured in the Daily Mirror. Jane felt that this was a wonderful way to connect with the local community and emphasised that everybody ate a lot of cake that day too. "Cake underpins many a celebration," she joked.
In another of their homes, they organised a makeshift museum. This was filled with memorabilia from the war which was owned by residents. It was a nice way for everybody to reflect on that time in history and was another effort which got Anchor Hanover featured in print media and on the television. Jane is proud that they were able to commemorate and celebrate an important day under difficult conditions.
Summer of Sports 2020
A lot of people were quite disappointed with the news that the 2020 Tokyo Olympic Games would not be taking place due to COVID-19 restrictions. At Anchor Hanover they decided to introduce a fun alternative for residents to help negate their disappointment about the Olympics, and so they introduced the Summer of Sports.
Throughout the Anchor Hanover care homes, they introduced a range of accessible sporting activities which were appropriate for the residents. Not only was this thoroughly enjoyable for everybody, but it had the added benefit of getting them involved in sports and doing something active. This was one of the events which Jane herself was directly involved with and she has fond memories of playing crazy golf with the residents.
Just as with their VE Day celebrations, the Summer of Sports got them a lot of media coverage. Jane was very proud of this because at the time, most news about care homes had been distressing and bleak. By hosting the Summer of Sports and ensuring that it got a lot of coverage, they were helping to provide a bit of balance to the narrative that most newspapers were reporting. Yes, it was a hard time for care homes, but there were positive stories like this which really highlighted the efforts that care home staff were taking to ensure that residents remained happy and occupied.
Colleague Engagement and Wellbeing
Ensuring that residents received the best care and that they had plenty of fun activities to do during lockdowns is just one aspect of Jane's approach to re-establishing public trust. During these hard times, a lot has been asked of the staff and so Jane considers maintaining their wellbeing to be a priority. To achieve this, several measures were introduced:
Discretionary Enhanced Sick Pay at 75% of earnings: A lot of employees needed to self-isolate and often they wouldn't have technically been entitled to sick pay, but at Anchor Hanover they wanted to ensure that staff had an income even during times when they couldn't come in. Additionally, they didn't want to risk staff coming in if they had any symptoms of COVID-19 and so they paid discretionary enhanced sick pay of 75% the employee's usual income.

The Colleague Hardship Fund: Over £142,000 was paid out to ensure that colleagues could continue to support their families throughout the pandemic. For many people, the pandemic has been a time of financial hardship and it was important to ensure that their staff were coping, hence the need for The Colleague Hardship Fund.

Being Well Microsite: A microsite was created for staff which included counselling and support options, mindfulness and meditation advice, special offers to alleviate financial strain, tips for making a comfortable homeworking environment and other helpful resources. The microsite was visited over 20,000 times, indicating that it was useful to employees.

Workplace: another new measure brought in to help maintain employee wellbeing was Workplace. This system is essentially Facebook, but contained to just the organisation. It's an easy way to keep up to date with thousands of members of staff and was an open platform for discussion.
In order to deliver the best quality of care, it was important to ensure the wellbeing of their staff first and foremost. Each year they carry out a survey to determine how happy their workforce is and in 2020 they had an 84% colleague engagement score, which was an improvement over the previous year's score. The happier the employees, the higher the quality of care and, ultimately, the better public perception.
Recruitment Campaign and Workforce Pressure
Pre-pandemic, the care sector had 126,000 vacancies, with a projected shortfall of over a million workers by 2037. With approximately 1,200 employees needing to self-isolate, the deficit in workforce became even more pronounced at the outbreak of the pandemic.
To rectify this problem, Anchor Hanover launched a recruitment campaign which ran from March to August in 2020. The campaign was successful and generated 2,000 job applications. Many of the new colleagues who joined as a result of this campaign have decided to continue their career in the care sector. Jane said that she hopes Anchor Hanover can provide employment opportunities which people might not have considered for themselves before.
Brand new roles were created for those who did not have any experience or training in providing frontline care services. The people who filled these roles were not directly involved in caring for residents, but were fulfilling other roles around the care home which assisted the care givers and allowed everyone to work more efficiently.
Training and Career Enhancement
Anchor Hanover has always been proud to invest in development opportunities for its staff. It was always a priority and this didn't change during the pandemic. She explained how they have a programme called My Future, which gives staff people skills and leadership training to prepare for the next step in their career. Around 80% of deputy managers at Anchor Hanover will use My Future so that they can progress to more senior roles. Over half of the care home managers within the organisation were recruited internally through this process.
Jane explained that they also have an apprenticeship programme in place. Though this was not a new programme, the number of learners who were enrolled in the scheme was 70% higher than it had been the previous year. There were 274 new apprenticeship standards started in the 2019/2020 academic year. This apprenticeship programme enabled Anchor Hanover to maintain a more diverse and stable workforce.
By providing these opportunities for members of their community, they were able to challenge the harmful and distressing perceptions of care which were becoming prevalent.
Conclusion
Ultimately, Jane believes that the perception of a care home comes from the local community. It will always be important to encourage engagement between the care home and its local community to ensure that its perception is a positive one. Once care home managers have taken the initiative to improve the perception of their care home on a local level, eventually the national perspective will grow into a positive one. The pandemic changed the ways in which care homes could engage and they've continued to push their efforts on this front.
Her final thought was this: in order to re-build trust and confidence, it is important for people in the care sector to be proud of their achievements and to share them vocally. It's important for those within the care sector to seek out allies and work cooperatively with other sectors to build stronger relationships and provide the best care.
.
If you would like to see the full webinar, including a Q&A session and a look at some of Anchor Hanover's media coverage, watch it now on demand! Jane Ashcroft is just one of many phenomenal individuals who hosted a session for Care Virtual.